Understanding and engaging in the journey of your waste is important for any business. Using a licensed waste carrier is crucial in ensuring that your waste is collected and treated in line with UK guidelines. Bailey's Skip Hire and Recycling not only have a waste carriers licence, but we also provide transparency in all our waste disposal and treatment. 
When it comes to waste management, there is a scale of methods, from most to least preferred in relation to their impact on the environment. This is called the Waste Hierarchy. Each company's waste treatment method falls under one of the categories.
Bailey's Skip Hire and Recycling
At Bailey's, we strive to use the best preferred waste treatment methods where possible. We practice in prevention, preparing for reuse, and recycling. Unlike many Skip Hire companies, much of our waste treatment happens on-site. This helps us in tracking where your waste goes, and allows us to maximise our recycling practices. In fact, we recycle or reuse around 97% of the waste we collect each year. Transparency is essential for you to know exactly what happens to your waste. As we strive for ethical disposal, your business can contribute to your corporate social responsibility (CSR) through utilising our services. Depending on each waste stream, the processes are different. Learn more about how we recycle each waste type here. 
We keep a comprehensive paperwork trail for all of our clients. Our staff will log all stages of the waste management process, from skip delivery to recycling the waste. Your business can access this information for three years after the initial contract.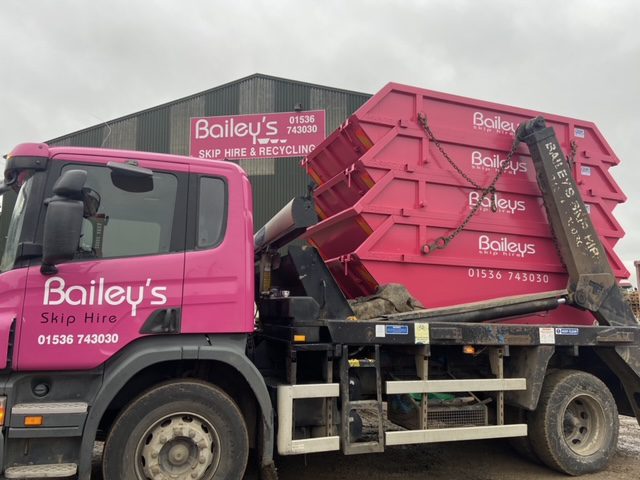 We also work closely with the Environmental Agency (EA) to ensure we have our finger on the pulse for all the latest information and changes in UK waste compliance. Our close relationship with the Environmental Agency can help give your business peace of mind that your waste is being disposed of legally, and in compliance with the EA's guidelines and recommendations.
We also use a weighbridge to ensure accurate recording of waste weight. All waste that arrives on-site is weighed. When waste streams are bulked and sent on to specialist treatment centres, they are also weighed on the way out. Thus, using a weighbridge helps us collect waste data, which can then be relayed back to your business for PR use, promoting your green practices with specific statistics. Our weighbridge is also crucial to ensure we remain compliant with the EA's Waste Management License guidelines. Because of this, our weighbridges are calibrated on a scheduled basis.