How Can Your Office Increase Recycling?
Recycling in your office is not only essential to helping our planet become more sustainable, but also in creating a happier workplace. Office waste is often created through bundles of paper being used each day, along with other waste materials used for tools and packaging. Due to the busy schedules in offices, the disposal of this waste can often be done quickly and may not have been segregated correctly. Therefore, it is key to have an effective recycling program in place where everyone in the workplace is on board.
Below, we explored our top 10 office recycling ideas to help your organisation create a more environmentally-friendly business.
10 Recycling In The Office Ideas
 1. Reducing Paper Use
By generating less paper and using digital processes instead, the amount of paper created will be limited. This means that rather than dealing with a bulk load of paper which can often cause complications, you can recycle paper in less loads which will be more accurate and take less time. Another trick is to start printing on both sides, which will also deduct the amount of paper used.
2. Align Your Teams Views On Office Recycling
 As a leader, speaking to your office team about the importance of recycling and how you are creating a greener business is encouraging and motivating for colleagues. This aligns your goals for increasing recycling across the board, and will spark an action in others to follow.
3. Create A Designated Space For Recycling Office Supplies
There will be a large amount of office supplies in your workplace, and items will break or be misused frequently. These supplies will often include products such as pens, paper, files and multiple electronic devices. It is important that you have a section within the office which your colleagues know how to find, where all plastic, paper, cardboard and WEEE waste can be recycled. Recovery and recycling rates for e-waste across Europe in 2019 stood at 59%, therefore it is important to keep this rate growing due to the devastating waste mountain we are creating.
4. Provide More Recycling Bins 
Waste bins often overflow in places such as offices where many individuals are using them each day. When you are running on a busy schedule and run into this issue, it can be easy to switch to the next bin where there is space. This means that items will frequently be disposed of incorrectly, when they could have been recycled. By providing more waste recycling bins people will be able to dispose of rubbish safely without the stress of finding alternatives.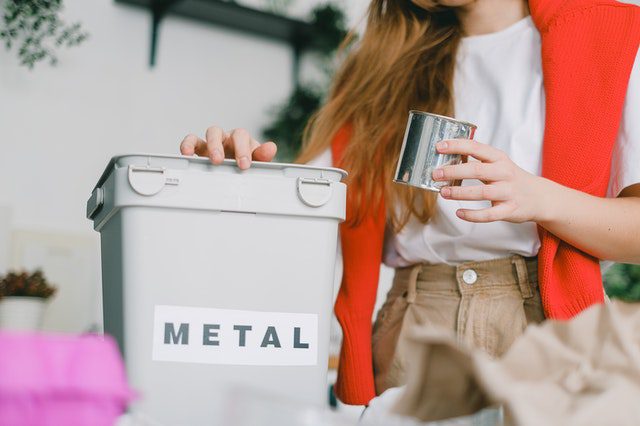 5. Create Activities & Competitions Surrounding Recycling
Scheduling team building activities surrounding recycling can be a great way to encourage your team to recycle. This could be in the form of a 'top recycler' reward given out at the end of each month, and asking your team to come up with new schemes of different ways you could create a greener workplace. 
6. Conduct A Waste Audit
Conducting a waste audit will help your business realise the specific types of waste that you are generating the most of, and will allow you to focus on appropriate areas. A waste audit will review the current ways you are handling waste, and hopefully push you to make improvements where you can increase recycling.
7. Limit Single-Use Waste
Single-use waste, such as plastic bottles, are generated every single day in offices. These can be used by you within the space of an hour, and take 1,971,000 days just for one single plastic bottle to decompose. One way to get around this is for your organisation to promote the use of paper cups, or to create your own branded bottle. This can then be handed out to your team to use over and over, rather than once.
During lunches you should also make sure to use eco-friendly packaging for items so that they can then be recycled effectively, and encourage people to use food waste bins. 
8. Use Recycled Materials
Using materials in the office which have been repurposed from waste, as you are doing, can be a great way to inspire your team to see what their efforts can turn into. This also means that rather than using products made from raw materials, you are reusing items and saving energy and pollution in production.
9. Create Clear Signage For Recycling
Make sure each of your designated recycling areas have clear signage stating what materials can be placed in each box or bin. It can also be handy to include graphics that are easy to follow, making sure that no mistakes are made in the disposal of rubbish.
10. Partner With A Waste Management Company
Creating an effective recycling program with a waste management company will ensure that your waste is collected and recycled accurately. At Bailey's Skip Hire, we specialise in commercial waste recycling and even offer recycling bins and containers to help you store your waste. Get in touch with our team on skiphire.bailey@btconnect.com to find out more.